Customers who bought this product also bought:
29 other products in the same category:
Manufacturer Info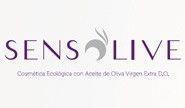 Sensolive
Sensolive is created by innovating formulas and seducing unique products to meet the needs of the skin. With the highest quality range of our Organic Extra Virgin Olive Oil and its 100% natural ecological botanical properties characterized by a high content of polyphenols and vitamins A, B, C, D and E. The NATURAL SENSOLIVE Cosmetics with Olive Oil Extra Virgin Ecological and Botanical Ingredients: - Slow and slow fermentation of cells thanks to high content of natural antioxidants and vitamins A, B, C, D and E - Reconstructs celiac cell membranes of the skin thanks to oleic acid and its botanical enhancing ingredients - Tones the epidermis and firmness, improves wrinkles, texture and smoothness. - Protect the skin against free radicals - It is solar moisturizing - Favors the regeneration process and natural healing of the skin.