Specials
Surtido Essencial, 24 bolsas de té de...
Valderrama is a producer of extra virgin olive oil based in Cordoba that uses traditional methods and whose quality has been widely recognized by many professionals in the sector. It has specialized in the manufacture of top quality oil, which is very suitable for haute cuisine dishes.

The Valderrama family has been dedicated to the cultivation of olive trees for making oil since 1851. Since then, it has been applying its experience and effort to improve the quality of its products, year after year. Today, it owns the San Rafael farm in Cordoba and the Cotanillo farm in Toledo--two locations with excellent conditions for growing and maintaining olive trees; some of them have been around for centuries.
Oriental Collection
Along with the famous chef, Alberto Chicote, it has created a new family of oils from the fusion of maximum extra virgin quality Arbequina oils with fresh fruit and vegetable products from Asian cuisine. It is made from the natural and direct marination of the oil with products from Asia. There are no artificial additives such as aromas, essential oils, or any previous chemical preparation--there are only natural flavours and aromas.
· Fresh Thai Chili: Spicy and warm touch for dishes such as rice, pasta, ramen.
· Kaffir Lime: for use in bivalves, molluscs, rice, white and red meat.
· Thai Red Curry: suitable for enhancing products, stew preparations, creams, soups, pastas.
· Ginger and Vanilla: to use in lightly cooked seafood, vegetables, and fruits.
· Pandan Leaves: for use in woks or as a pastry flavouring.
· Wasabi: for use in sashimi, carpaccio, sushi, salad, salmon, or tuna tartar.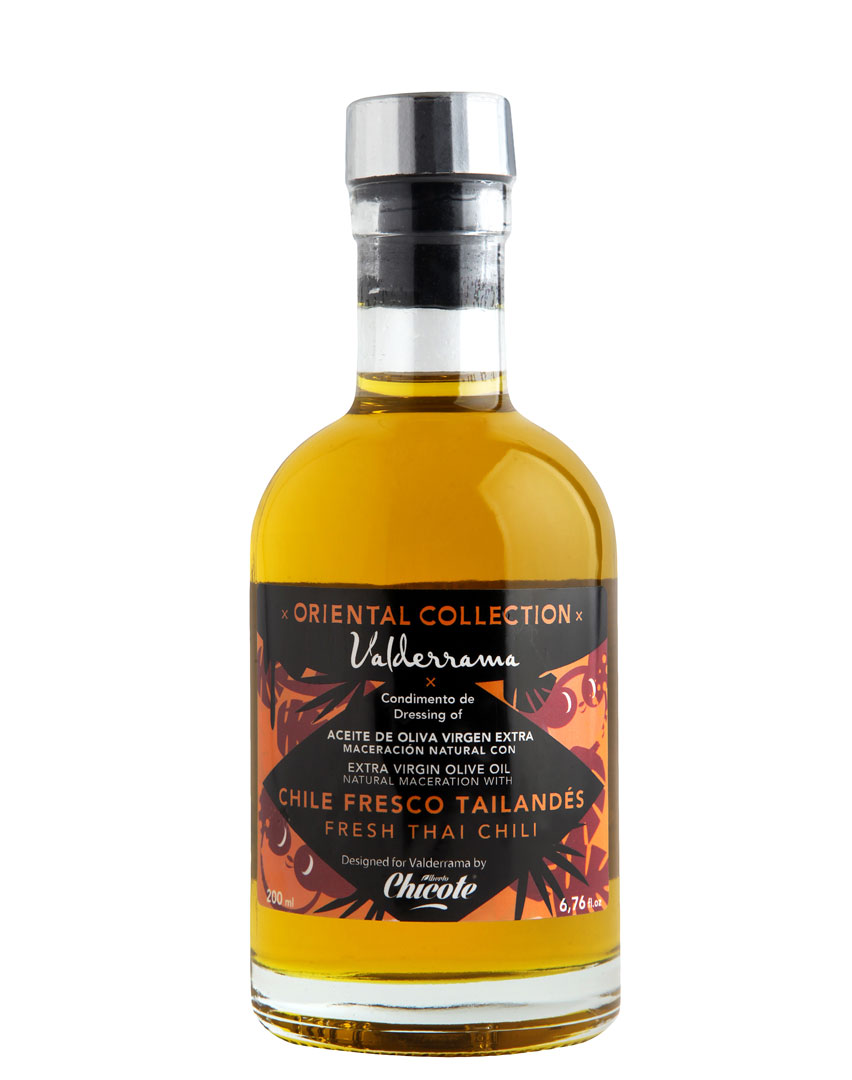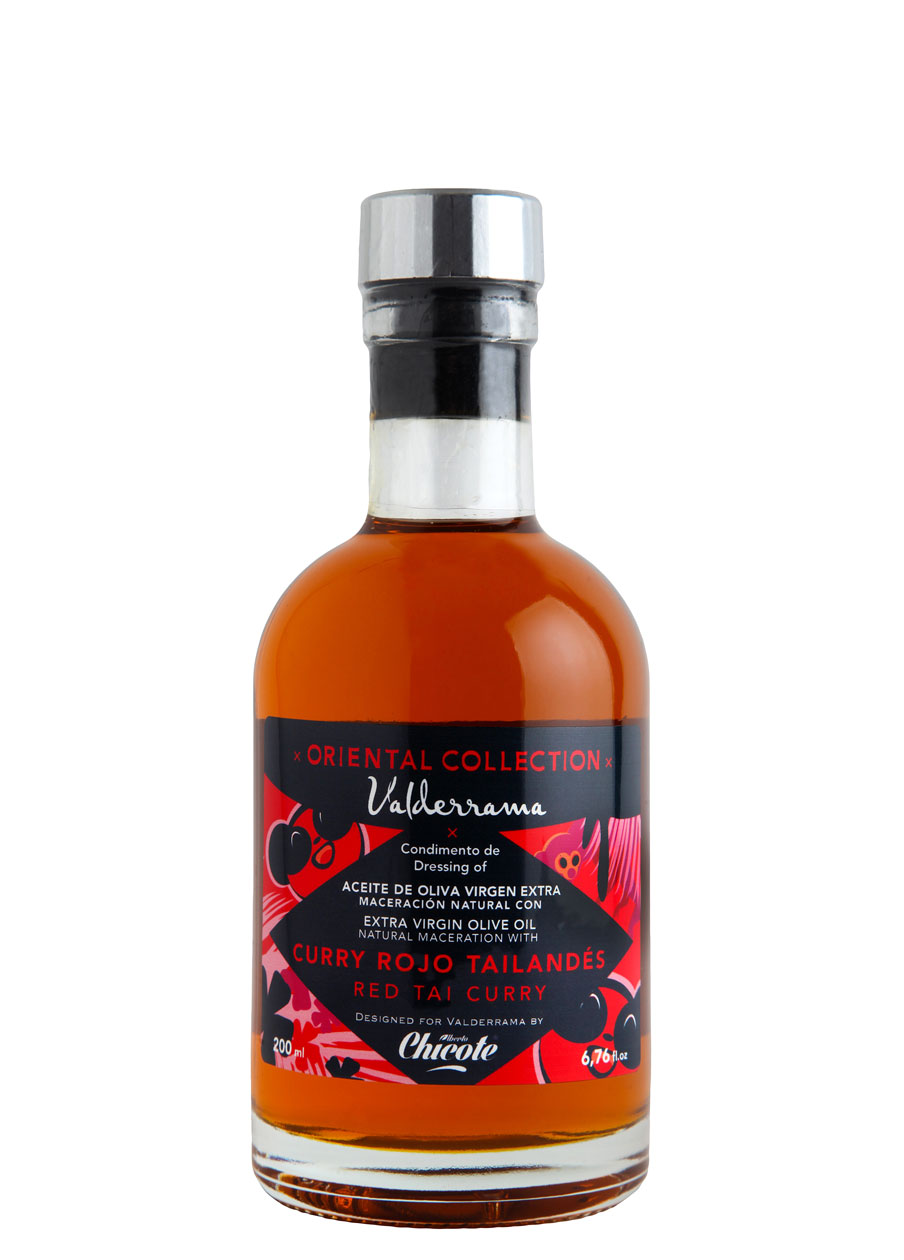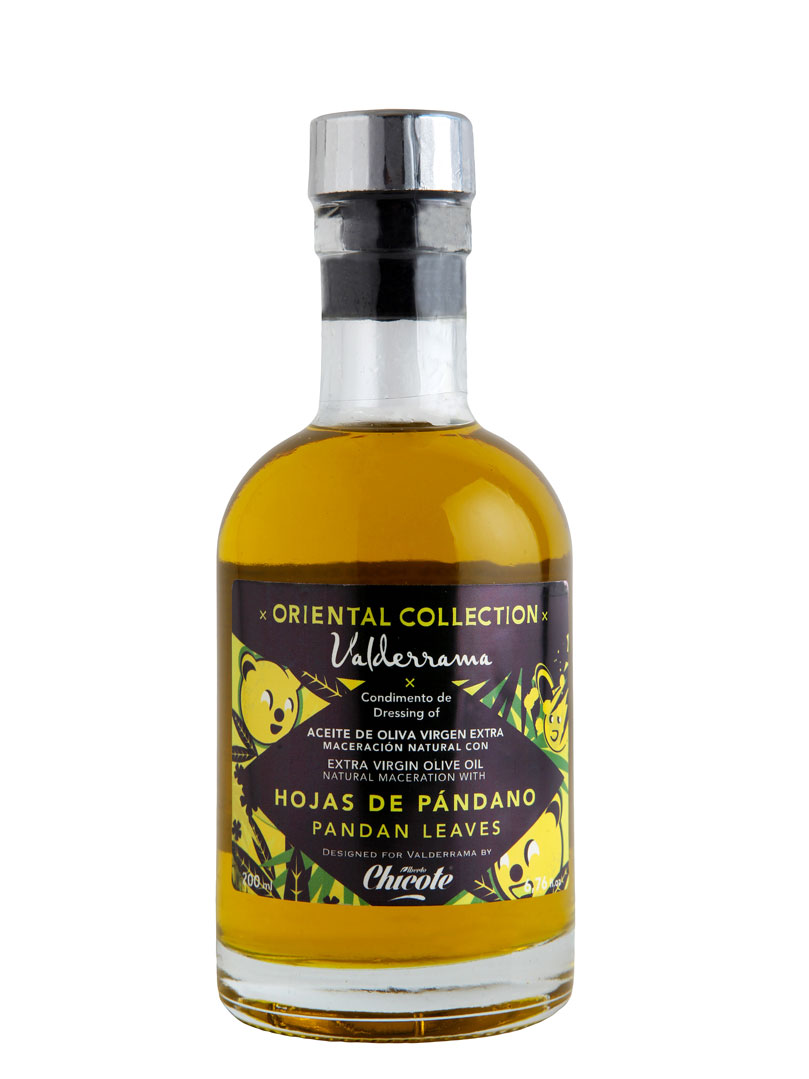 Chile Fresco Tailandés 200ML Curry Rojo Tailandés 200ML Hojas De Pándano 200ML
Monovarietal gourmet oils
Valderrama We produce six varieties of monovarietal extra virgin olive oils with different aromas and intensities. They are used in complex and haute cuisine dishes:

- Alberquina: Recommended for gazpachos, green leafy vegetable dishes, anchovies, bluefin tuna, tropical fruits, paellas, and other types of rice.
- Picudo: Combine with pasta, carpaccioswhite fish, sauces, and any kind of delicate flavours.
- Cornicabra: Pair it with game dishes.
- Hojiblanca: Combine with fatty fish, mixed salads, meats, potato omelettes, and tomato sauces.
- Ocal: Perfect for use in baking, sweets, cooking at low temperatures, and making mayonnaise.
- Grand Cru: es el aceite coupage de Valderrama. It is a combination of select varieties arbequina, hojiblanca, picudo y ocal based on their polyphenol content. This makes it a great quality oil, excellent to use in both raw and cooked dishes.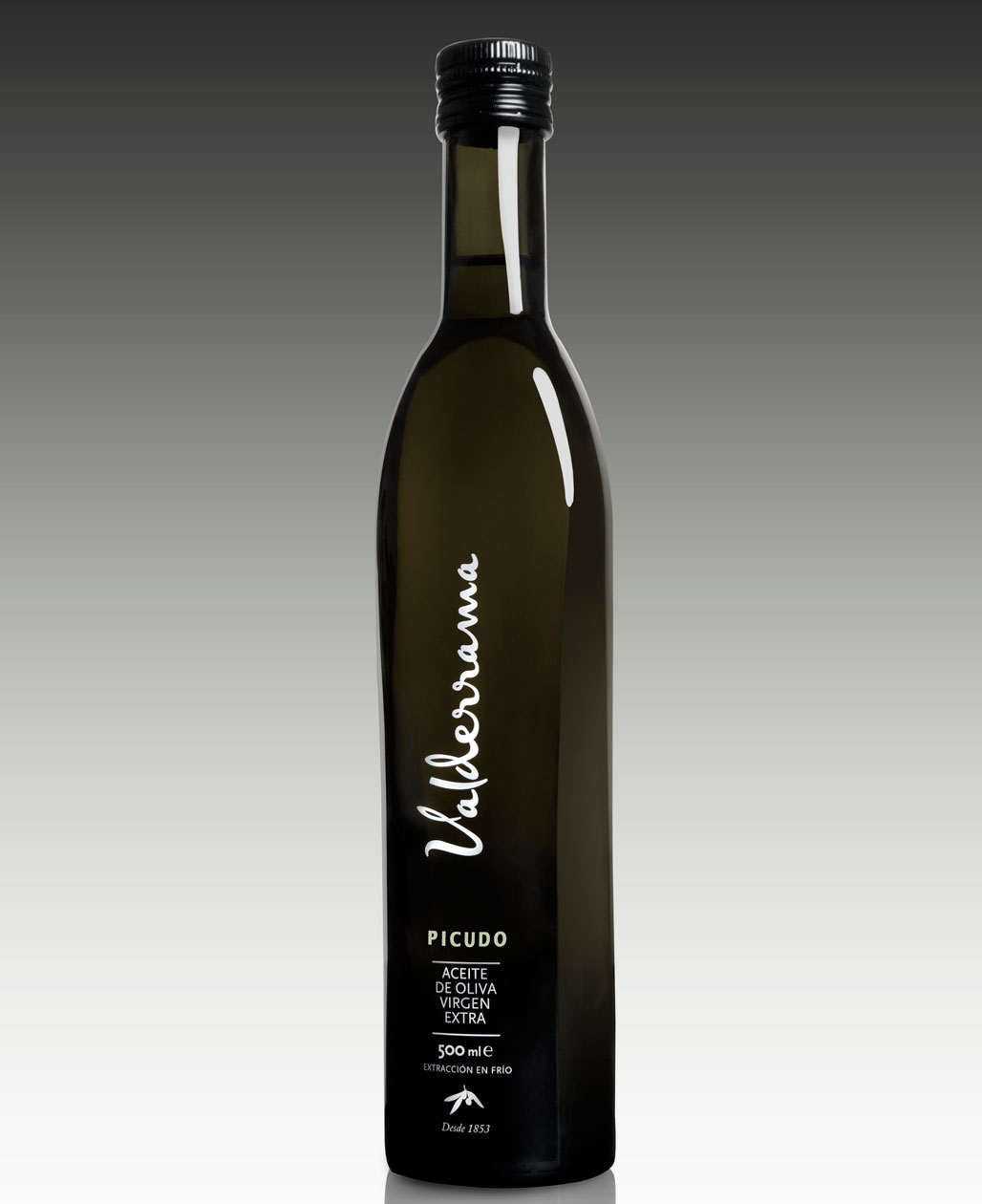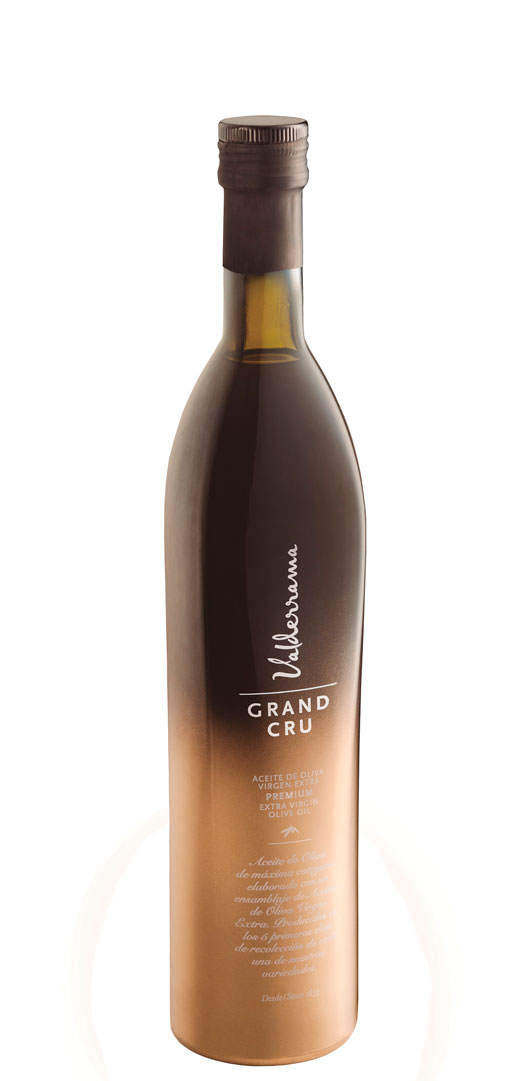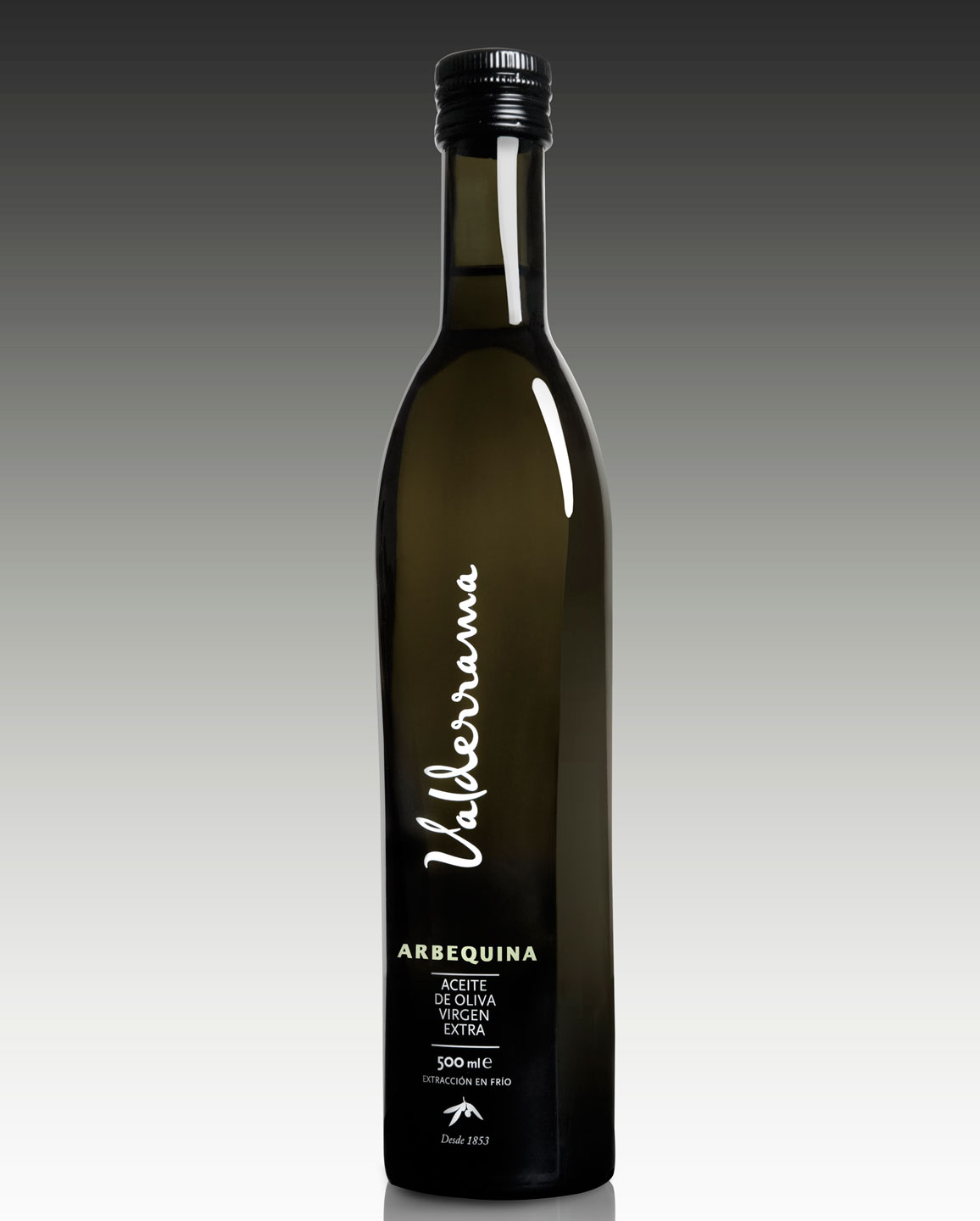 Picudo 500 ML Grand Cru 500 ML Hojiblanca 500 ML
In turn, these oils serve as the basis for producing other, always natural, products such as Natural White Truffle and Natural Black Truffle oil from Piemonte italiano (not flavoured, but rather infused) and the most refined oak- and beech-smoked oil.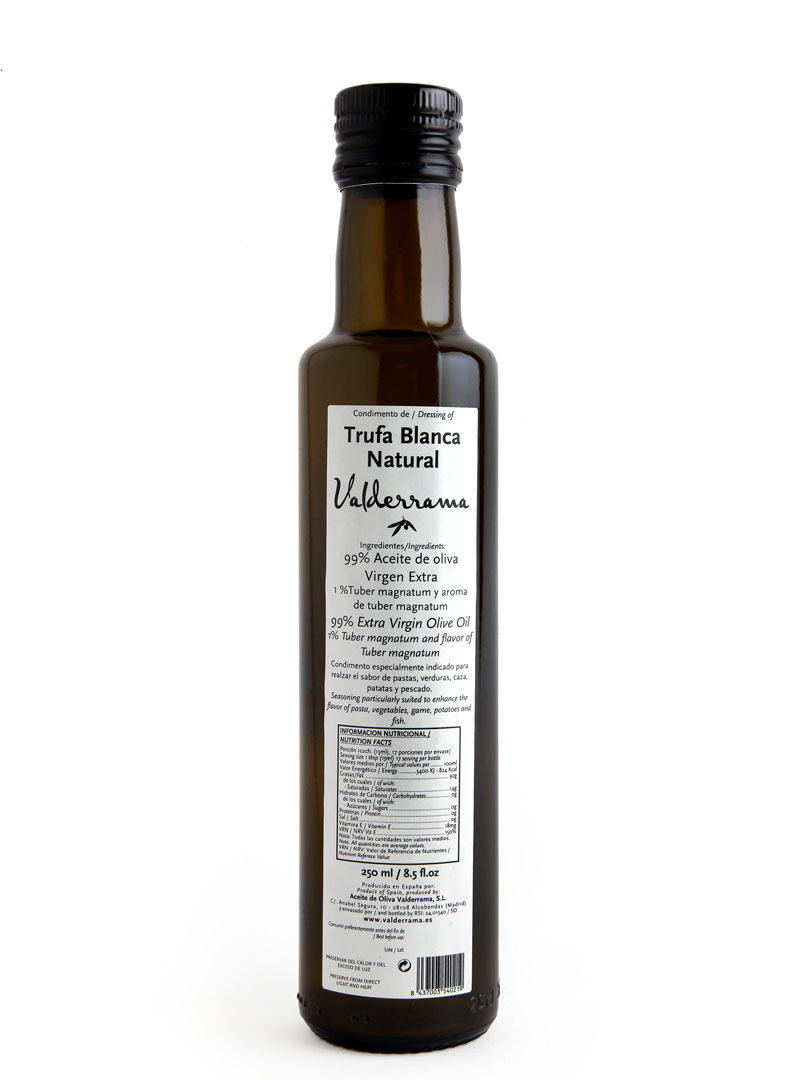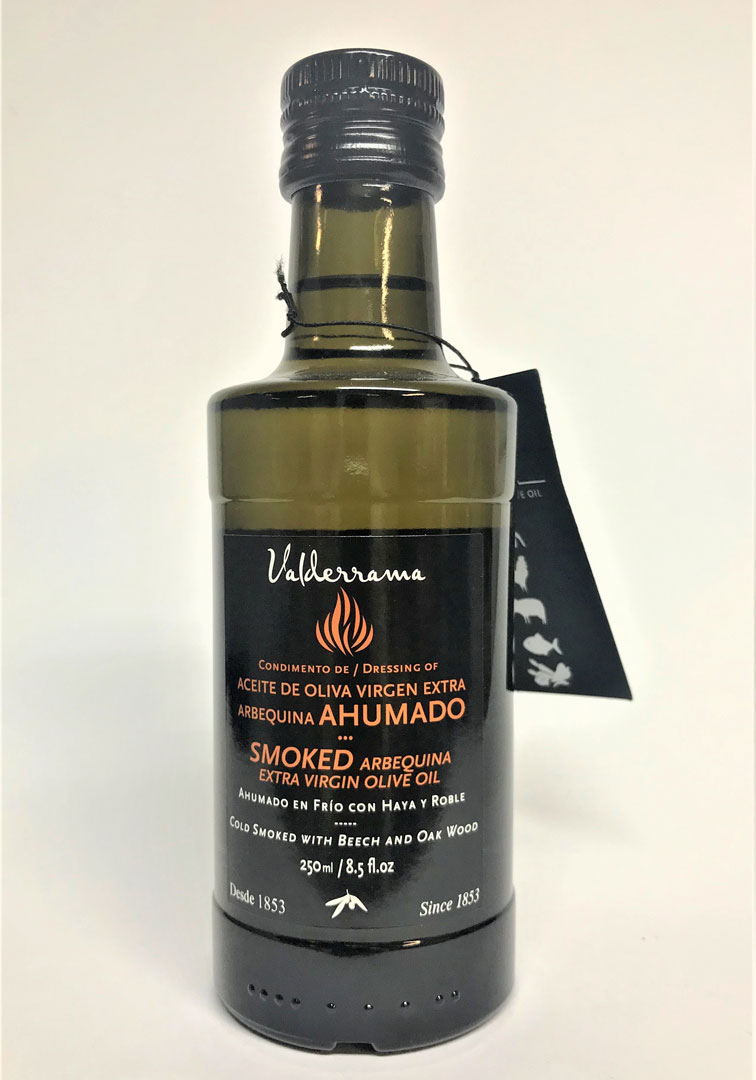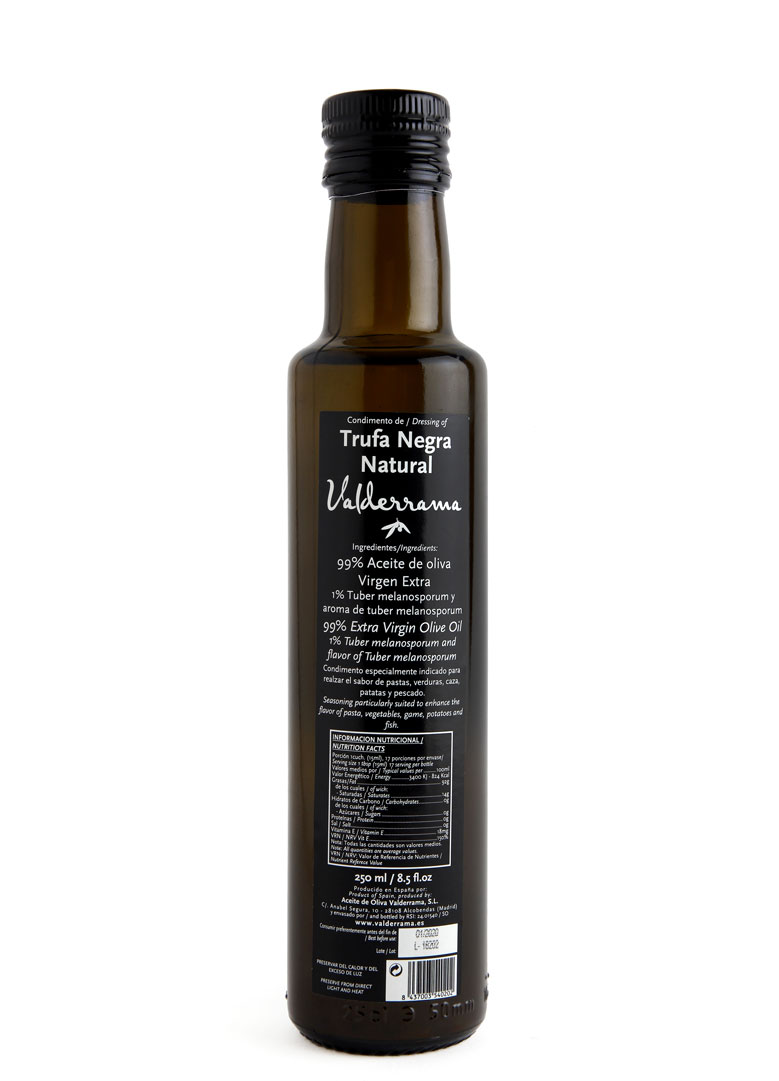 Aceite de Trufa Blanca 250ML Aceite Ahumado 250ML Aceite de Trufa Negra 250ML
Due to their dedication and great selection of premium oils, their products have been praised by Chef91 (the most prestigious gastronomy magazine in Japan) and The Washington Post, as the famous French Laundry restaurant had used their oil.
Escribenos tus comentarios