Specials
Surtidos de 15 latas de tés y filtro...
Two entrepreneurs united their dream with the experience of the San Juan Cooperative to create a category Extra Virgin Olive Oil together. It happened in Jaen, the challenge became a project, they dubbed it Supremo, and ever since then, we can taste its fruit.
With creativity and daring, in a short period of time, they have managed to position the brand and the cooperative at the top, producing a quality Extra Virgin Olive Oil with more than 100 national and international awards.
Supremo has 7 EVOOs of 6 different varieties of olives harvested from their respective olive groves throughout Jaen with 3 production proposals: ecological, integral, and traditional. It stands out with its brightly coloured bottles, some symbolic, with labels made by renowned young artists from Jaen. With its image and philosophy, Supremo is unique while also preserving the identity of its region of origin.
Enjoy your favourite among this selection of different varieties, the ones that best suit your dishes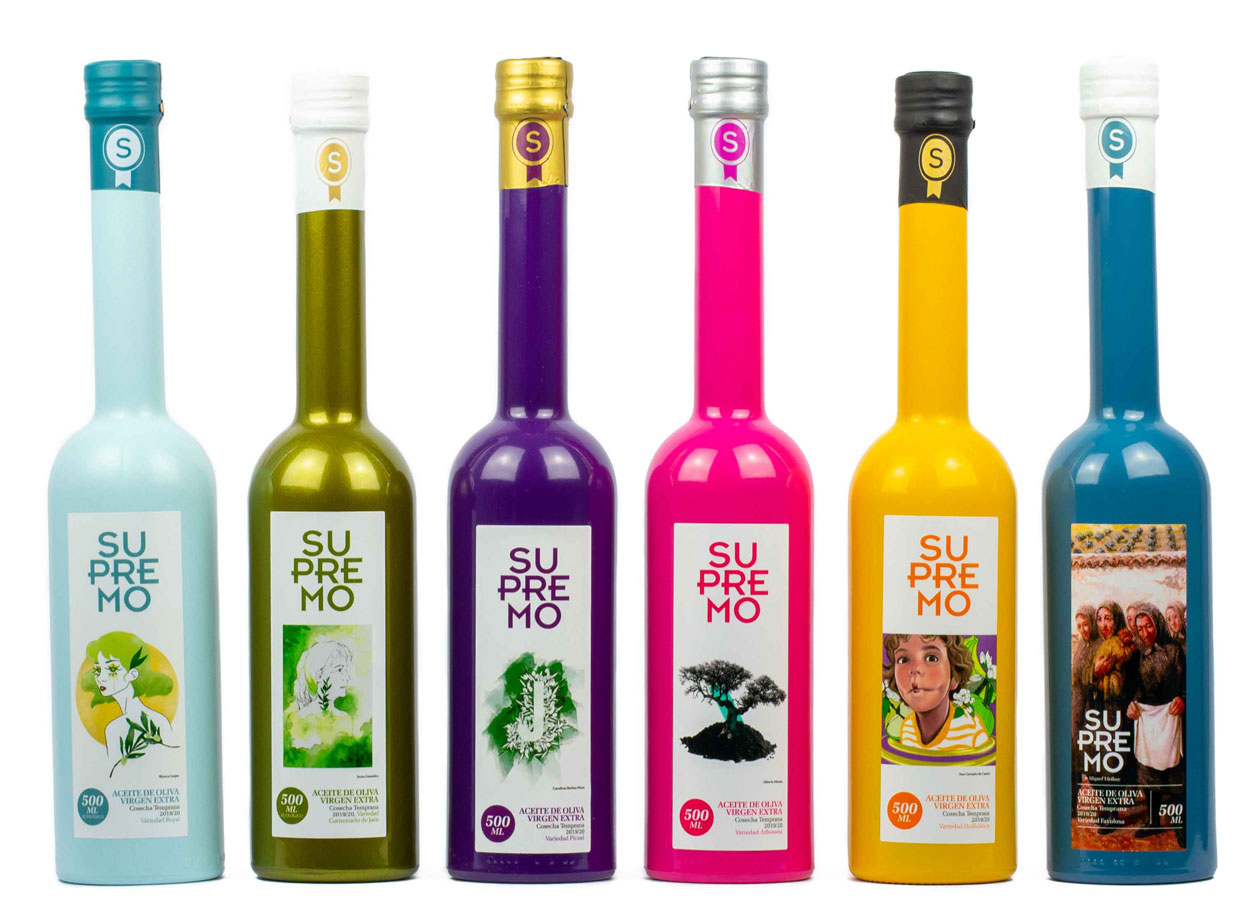 100% PICUAL - Top 50 Iberoleum; Awarded
Attributes: Traditional from Jaen – High yield– Early production
Zone: Sierra de la Campiña Acidity: 0,11 Colour: Intense green
Aroma: Almond, fresh herb, tomato
Recommended: In raw dishes, dressings and red meats
Label 19-20: "Jaén con su oro verde" by Carolina Molina Pérez
100% ARBOSANA - Top 50 Iberoleum; Awarded
Attributes: Originally from the Penedes – High content of polyphenols
Zone: A t the feet of Arjon Acidity: 0,12 Colour: Green with hints of gold
Aroma: Green olive, green Apple, green banana
Recommended: In salads, chocolates, yoghurt and ice cream
Label 19-20: "Arjé" by Alberto Mesón Temprado
100% CORNEZUELO Top 50 Iberoleum; Awarded
Attributes: Recently planted – eco-friendly production
Zone: Sierra de Huelma Acidity: 0,12 Couleur: Vibrant bright green
Aroma: Green Herbs, artichoke, almond
Recommended: On vegetables, toasts, cured cheeses, and raw fish
Label 19-20: "El espíritu de la mujer rural" by Inmaculada González Torres
100% HOJIBLANCA Top 50 Iberoleum
Attributes: Third in cultivated area – medium-high drought resistence
Zone: On the outskirts of the Sub-Baetic region Acidity: 0,13 Colour: Intense green
Aroma: Olive leaf, tomato plant, green almond
Recommended: On salads, cheeses and fatty or white fish
Label 19-20: "Roaylmente Supremo" by Ana Corazón de Castro
100% ROYAL Top 20 Iberoleum; Awarded
Attributes: Traditional from Jaen – High levels of Vitamin E – eco-friendly production
Zone: Sierra de Huelma Acidity: 0,10 Colour: Intense green
Arome: White flowers, grass, green banana peel
Recommended: On bread, pasta and smoked cheeses
Label 19-20: "Dama verde" by Blanca Luque Mateos
100% FAVOLOSA
Attributes: Originally from Italy, collected in Andujar
Zone: On the Supremo experimental farm in Andújar Acidity: 0,13 Colour: Intense green
Arome: Banana, artichoke, almond
Recommended: On bread, especially for pastas and salads with nuts
Label 19-20: "Homenaje a García Lorca" by Miguel Viribay Abad
100% "NUESTRO" PICUAL – NEW PRODUCT
Attributes: Main variety in Andalousia – highly stable oil Unfiltered
Zone: On the Supremo experimental farm in Andujar Acidity: 0,16 Colour: Golden
Arome: Banana peel, ripe olive
Recommandée: Dressings, cooked and fried foods
Escribenos tus comentarios