Specials

Party snack!
We have tried a new recipe for a party aperitif, and we want to share it for the simple and delicious it is: the" potato with salmon tapa".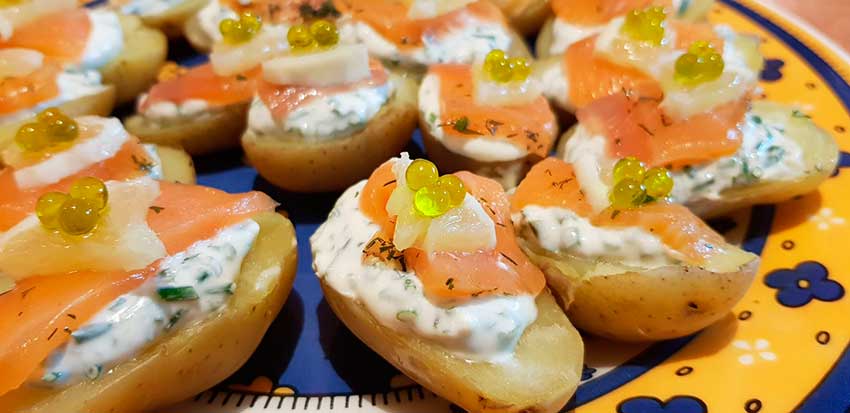 Photo @daydeurn
Ingredients:
• 500 gr. of garnish potatoes (the smaller the better)
• 150 gr. of smoked salmon
• 1 Lemon
• 50 gr. of chives
• 250 ml. of heavy cream
• Pearls of extra virgin olive oil Picual Oro Bailén
https://www.olivaoliva.com/en/7985-oro-bailen-reserva-familiar-extra-virgin-olive-oil-pearls-50-gr-glass-jar.html
Elaboration:
Wash and cook the potatoes with skin until they are soft but not undone.
While the potatoes cool, prepare a sauce with heavy cream, salt, pepper and chives cut into small pieces
Cut for the length the potatoes into 2 pieces
Put the sauce on top and add smoked salmon and a small slice of lemon without skin.
Finally, delicately place 3 pearls of extra virgin olive oil Oro Bailén Picual
Eat tepid.
BON APPETITE!
Escribenos tus comentarios