------------------------------------------------------------------------------------------------------------------------------------------------
Almazaras de la Subbética presented Frying Alliance: An alliance of cooks who only fry with Almaoliva Extra Virgin Olive Oil.
A movement represented at the 32nd Gourmet Fair by experts who claim that frying with extra virgin olive oil is an essential way of cooking in the Mediterranean Diet.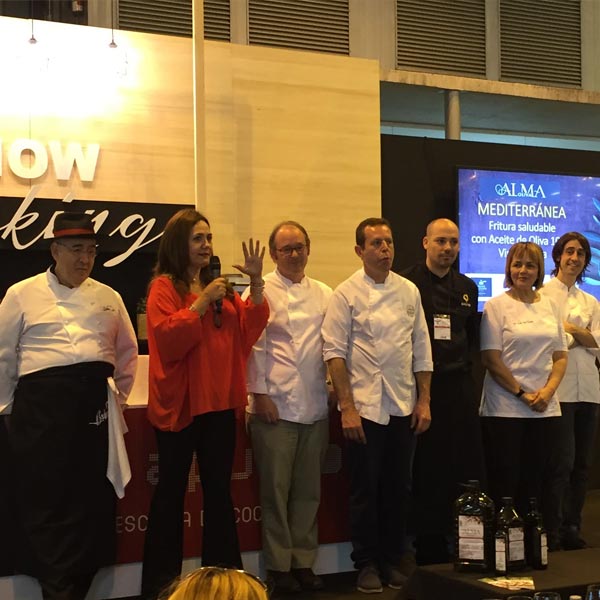 Presentation Frying Alliance of Almaoliva.
Doctor in Food Science and Technology Rocío Teruel began by saying that "frying with olive oil respects the nutrients of the product better than other ways of cooking, maintaining all its flavour and making it more appetizing".
The chefs who attended the Frying Alliance presentation were:
María José San Román who operates Monastrell, (1 Michelin star) in Alicante.
Chef José Rodríguez and Adelina Parada, owner of Gozos Mundanos in Rosas, Girona.
Marc Muñoz and Lluís Estrada, owners of Comaxurros, Barcelona.
Abraham García from the mythical Viridiana, Madrid
Ignacio Sánchez Sicilia, creator of the popular Tabernas del Chato, Madrid.
Daniel García Peinado, the gourmet of La Roja and known by the nickname of "chef del aove" (Spanish initials for "extra virgin olive oil") for his research on the aove for the last 8 years, arrived from Málaga.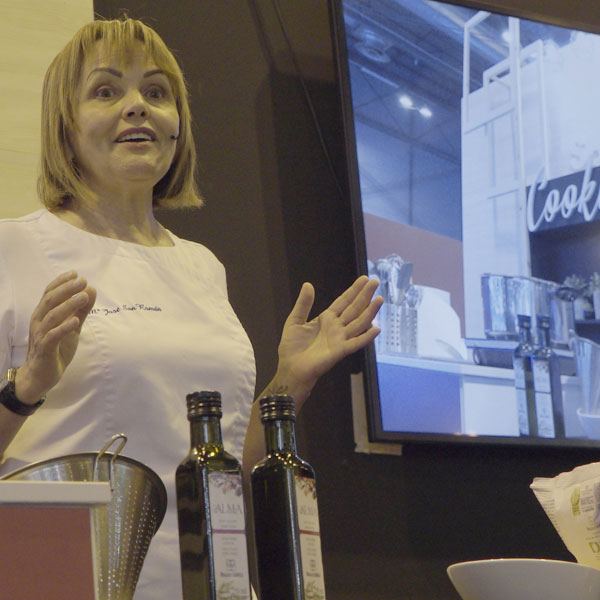 Mª José San Román, Chef of the Monastrell restaurant.
According to the oleologist and manager José Antonio Nieto, the formulation, tested for two years with the worl-wide consumed San Nicasio crisps, includes a blend of olives of the picuda, picual and hojiblanca varieties that withstand the temperatures required for frying.

Frying Alliance claims the creation of an association of professional chefs who are committed to creating Extra Virgin Olive Oil culture, demonstrating that frying "so deeply rooted in the Mediterranean diet is a healthy and innovative preparation method" as explained by the doctor in food science and technology, Rocío Teruel.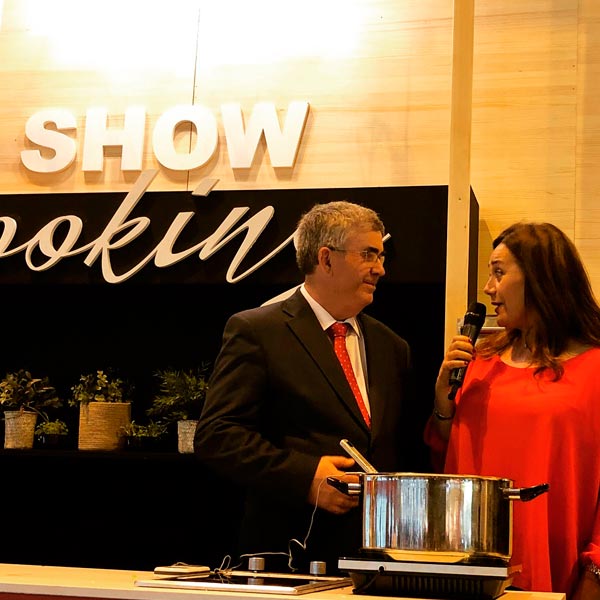 Francisco Serrano, president of Almazaras de la Subbética with the presenter, Concha Crespo.