Customers who bought this product also bought:
65 other products in the same category:
Manufacturer Info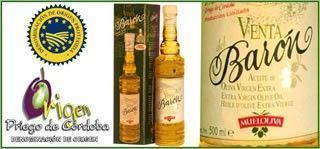 Mueloliva, SL
Populated by Romans and Arabs, who called it Medina "Baiga", the city grew up with the culture of the olive tree and
learned to select, topping, anillar and clean the trees that gave it its greatest source of wealth: "the olive picuda
of Priego de Córdoba ".Testigo of that richness is the baroque art of the fountains and streets of the city and so is
its condition as traditional oil, which has managed to rescue at the same time the most precious oil formula: the virgin
olive oil of first extraction in cold weather, which is called "Venta del Barón", ceiteros by tradition, a motto that we
have maintained generation after generation In Mueloliva we have made of the Olive oil a whole way of life. Defined in 
the middle of Subbética, the Mediterranean heart of Andalusia, we elaborate our products according to tradition, with the
patience and care that a great oil needs.Olive Oil is one of the most exquisite products that we can enjoy, not only for 
its taste, but also for its excellent culinary and food conditions that make it unique within the best kitchens. 
From here we invite you to know and expand information about Mueloliva and its oils.